Porcelain veneers are one of the most versatile and effective of all cosmetic dentistry treatments. Placed over the front of teeth, veneers cover imperfections and minor damage to create a smile that is straight, bright, and strong.
If there are issues with your smile that have left you feeling less confident or attractive, Reseda cosmetic dentist Dr. Vorperian welcome an opportunity to meet with you and discuss your concerns – and to help you determine if porcelain veneers are the best treatment for your specific needs.
If you live in Reseda, Chatsworth, Tarzana, Northridge, Canoga Park and the Nearby Areas of Los Angeles and are unhappy with your smile, please call us at 818-342-1894 to schedule your porcelain veneers consultation with Dr. Vorperian.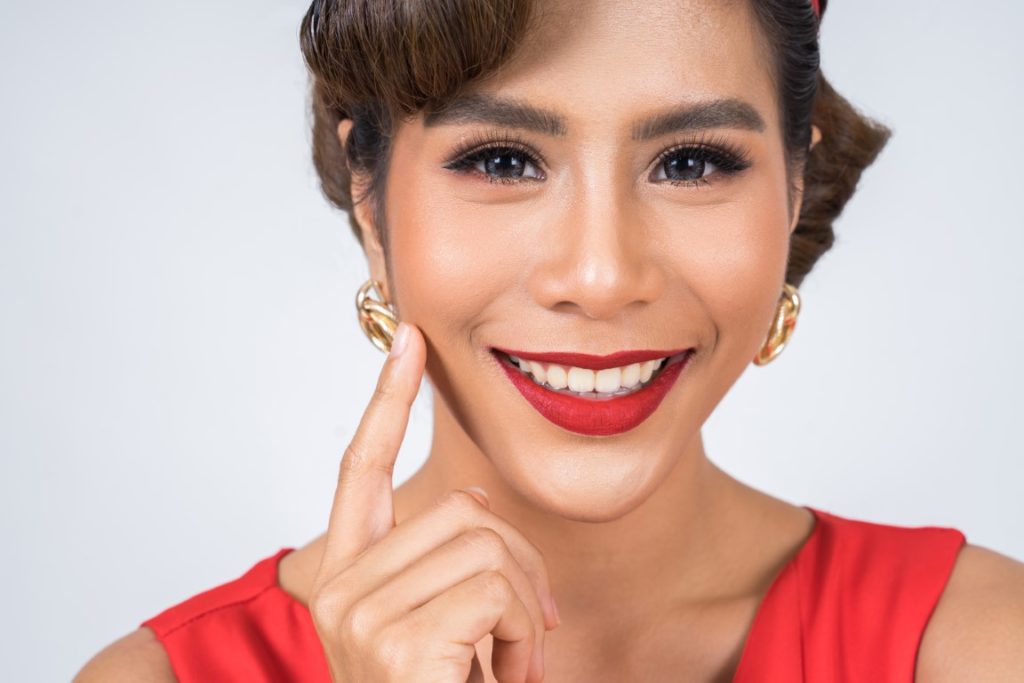 What Porcelain Veneers can Treat
Porcelain veneers offer an ideal treatment for many cosmetic imperfections. Some of the most common uses include:
Minor damage such as chipped or cracked teeth.

Cosmetic malocclusion including crooked presentation, gaps and spaces, and uneven tooth sizes.

Severe discoloration such as that caused by tetracycline and fluorosis.
Veneers may also be used to cover older composite fillings in certain cases.
Because they can correct cosmetic bite irregularities, porcelain veneers are sometimes called "instant orthodontics." However, more pronounced issues may require a different approach, such as Invisalign® or traditional braces. During your cosmetic dentistry consultation at our Reseda office, Dr. Vorperian will discuss this with you in greater detail.
Types of Porcelain Veneers
Dr. Vorperian offer traditional veneers in addition to:
MacVeneers™ – one of the strongest, most durable, and longest-lasting options available today

Lumineers® – a veneer that requires no tooth preparation for placement

DURAthin® veneers – another non-prep option, but completely manufactured in the United States
Each of these options offers specific benefits and none are perfect for every smile. The best way to learn which type of porcelain veneer will best enhance your smile is through a one-on-one consultation with one of our doctors. During your initial visit we will carefully assess your teeth, discuss the benefits and limitations of each veneer option, and help you choose the right one for your needs.
The Porcelain Veneers Process
The process of placing porcelain veneers relies on the type you and your doctor choose. Some options, such as Lumineers®, do not require tooth preparation, which can decrease the amount of time you spend at our office. However, only around 25% of patients are good candidates for no-prep dental veneers.  Even when preparation is required, the placement of veneers is quick and virtually pain-free – and results can last for several years without touch ups.
Changing the color, shape, or size of your teeth with porcelain veneers can dramatically improve the appearance of your smile. Problems such as tooth discoloration, chipped teeth, spaces between the teeth and even cracked teeth can be corrected with this procedure.  Dr. Vorperian use only superior materials and the best dental laboratories, resulting in life-like restorations that are often more beautiful than natural teeth themselves.
Dental veneers are thin shells of porcelain or high-quality ceramics that are bonded to the front surface of the teeth. Their placement requires two separate appointments at our Reseda cosmetic dentistry office over an interval of three to four weeks.
During your first appointment, your teeth will be prepared by conservatively reducing the enamel in front of or around each tooth being treated. Once teeth have been prepared, an impression of your smile will be made. This impression will be sent to our dental lab partners who will use it to personalize your dental veneers.
While your custom-designed veneers are being manufactured, you will wear temporary restorations to help prevent tooth sensitivity and to give you an idea of what your final results may look like. If you would like any changes made between your temporary restorations and personalized dental veneers, we can arrange that with the lab before your permanent restorations are placed.
Before permanently adhering your custom veneers, we will temporarily place them using a paste, enabling you to approve your new smile before it is completed. If you are fully satisfied, resin will be used to permanently adhere the porcelain veneers to your teeth. Our doctors help firm this bond by curing treated teeth with an Argon laser, which helps make your veneers as strong as your own teeth and resistant to future discoloration and chipping.
Caring for Your Porcelain Veneers
Proper care, including daily brushing and biannual visits to our office, will be necessary to ensure the longevity of your porcelain veneers, but this can often be accomplished without altering or adding additional and time-consuming steps to your daily oral hygiene routine.
To extend the life expectancy of your veneers and to prevent decay from forming undeath your restorations, it is important to brush after every meal, when you wake, and before you go to bed at night. Flossing should accompany your morning and nighttime brushing. Be sure to use a nonabrasive toothpaste and a soft-bristled toothbrush to prevent damaging veneers – particularly if you have a thinner option such as a DURAthin Veneers or Lumineers. Mouthwash containing strong astringents like alcohol should also be avoided to help prevent damage to the bonding resin that holds veneers in place.
Dr. Vorperian will cover individual care instructions and examine your veneers for damage during your regularly scheduled cleanings and examinations.
Porcelain Veneers: Risk vs. Benefit
When it comes to enhancing the appearance of your smile, porcelain veneers offer many advantages. Porcelain veneers are:
Custom-made to fit your individual smile, both aesthetically and functionally

Minimally invasive, leaving your natural teeth largely intact

Stain resistant allowing you to keep your smile brighter for longer

A faster alternative to traditional orthodontics for issues with minor misalignment
Perhaps the greatest benefit of porcelain veneers though is their ability to simultaneously and almost instantaneously correct myriad cosmetic dental issues including:
Chipped or cracked teeth

Teeth that are twisted, crooked, overlapped, or have small gaps

Irregularly sized or shaped teeth

Teeth that are severely discolored underneath the enamel
In some cases though, you may want to consider alternative cosmetic dentistry options to achieve the best results. Our experienced Glendale cosmetic dentist can evaluate your needs to help you determine if porcelain veneers are right for you.
Though porcelain veneers provide numerous benefits, they do have some limitations and risks. When choosing porcelain veneers to improve your smile, some factors to consider include:
Irreversibility – Porcelain veneers require a portion of your original tooth enamel be reduced, leaving you unable to restore your tooth's original condition. When a veneer becomes damaged or discolored, you will need adjustments or new veneers to be made. The exceptions to this are DURAthin Veneers and Lumineers, which require no tooth preparation.

The procedural timeframe – Because porcelain veneers are designed to suit your individual needs, at least 1 week of laboratory time may be required between tooth preparation and dental veneer placement.

Potential veneer failure – Though veneers are very strong and can be long-lasting with proper care, as with natural tooth enamel, they should not be put under excessive stresses such as chewing ice, biting fingernails, or opening bottles.
During your one-on-one consultation at our Reseda, CA office, Dr. Vorperian can help you identify potential risks and answer any porcelain veneer questions you have to help ensure you are making the best decision for your smile.
Porcelain Veneers Costs
The cost of porcelain veneers ranges across California from $1000 to $2000+ per tooth. Understanding that such expenses are not covered by insurance and therefore inaccessible to some patients, we are pleased to offer a range of porcelain veneer financing options that can help make these beautiful restorations possible for a larger group of people.
We offer a 5% cash discount, accept all major credit cards, and work with CareCredit® and the Lending Club to provide multiple payment options for our patients. During your initial consultation, we will happily discuss all payment options and can provide you with additional information about our financing partners if that option is most appealing to you.
While the cost of dental veneers may seem initially high, the benefits offered by this type of restoration are inimitable. Some strength and beauty can be restored with less expensive cosmetic dentistry solutions, but veneers alone provide the long-lasting and reliable solution many of our patients demand. Our veneers are guaranteed for seven years against any problems that may arise as long as regular dental checkups are maintained.
For a clear idea of what veneers can do, please visit our before and after gallery. Additional cases can be viewed in person when you visit our Reseda, California cosmetic dental office.
Dr. Vahe Vorperian is an award-winning and highly respected cosmetic dentist. Located in Reseda, CA and has been recognized nationally for his remarkable cosmetic restorations and has been listed as a Top Dentist by many local and regional publications.
If you are unhappy with your smile and would like information on safe and effective cosmetic dentistry treatments, please call 818-342-1894 to schedule your initial consultation with Dr. Vorperian.
Our Reseda cosmetic dentists serve Reseda, Chatsworth, Tarzana, Northridge, Canoga Park and the Nearby Areas.